National Geographic Russia in Kirov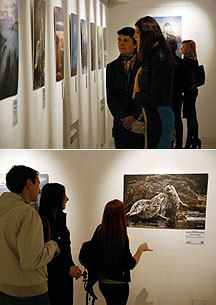 The official opening of the Wild Russia exhibition, displaying the best works from the National Geographic Russia photo contest of the same name, was held at the Progress Gallery Museum of Modern Art in Kirov on May 13. Following a welcome from gallery director Dmitry Shilyayev, guests and journalists viewed the exhibition to the accompaniment of nature sounds rendered in jazz/funk/soul/electro style by DJ JK and afterward enjoyed a light buffet.
Another surprise awaits local nature and photography lovers: Wild Russia 2011 photo contest winner Sergei Ivanov will conduct a workshop at the Progress Gallery for all comers. Once the date is set, it will be published on the www.nat-geo.ru site.
National Geographic Russia in cooperation with the Russian Geographic Society held the first Wild Russia photo contest from May 1 to Oct. 1, 2011. Now, an exhibition featuring the best works from that contest is "traveling" across the country. The exhibition has already been to St. Petersburg and Saratov and will open in Volgograd on May 22. It will then visit other Russian regions. According to organizers, the exhibition will not only display striking photographs, but in each city it visits, it will serve as a venue bringing together professional and amateur photographers as well as locals and guests, and also as a site for workshops, public lectures and other interesting promotional activities and events.
The photo exhibition in Kirov will run from May 13 to June 10 at the Progress Gallery Museum of Modern Art located at Ulitsa Gorkogo, Bldg. 5. Interested people can contact that gallery at telephone 405-504 or at their website, www.galereyaprogressa.ru. More details are available online at www.nat-geo.ru.