National Geographic Traveler Exhibits "The World through the Eyes of Bloggers"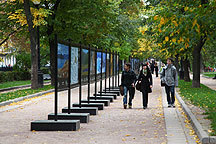 "The World through the Eyes of Bloggers" open air photo exhibition, a major media project, opened on May 21 with support from National Geographic Traveler magazine and NVision Group. Epson and the Marmur Pro photo studio served as technical partners to the project.
At any time, day or night, visitors to the exhibit can see photographs by professional photographers, journalists and amateurs that capture the most beautiful and amazing places on the planet. All of the photographers have one thing in common: They are active world travelers who share their photographic material with an online audience.
"The World through the Eyes of Bloggers" is a project of the Veche publishing house — one of the most remarkable and original in Russia. Vladimir Trofimov is the originator and chief editor of the project and well-known Russian photographer and blogger Pavel Kosenko also contributed to its creation.
The exhibition will display works by Fyodor Yurchikhin, Pavel Kosenko, Ivan Dementiyevsky, Sergei Dolya, Vadim Balakin, Alexander Sorin and other prominent figures in the blogosphere. The exhibition runs through June 21.