Yes! in June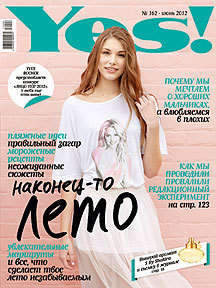 The June issue of Yes! is devoted to the long-awaited summer. Young ladies who read the special summer-related materials will learn all the secrets of the perfect tan and how to choose the perfect shorts, flip flops and bathing suits. They will also take fun tests to determine which vacation suits them best and plan the travel itinerary of their dreams — this time covering the length and breadth of their native Russia.
In addition, Yes! explains why girls dream about good boys but fall in love with bad ones and shares the results of an experiment in which the magazine's editors tried to overcome every innocent form of addiction: sweets, social networks, unhealthy foods and smoking.
The cover features a young woman wearing a T-shirt with a picture of Shakira on it. Inside the issue, readers will find a contest in which the winners will receive the singer's own S By Shakira perfume as a complimentary gift from Yes! And the reader who most closely resembles Shakira will have the chance to appear on the pages of the magazine's Like a Star column.