Summer Issue of National Geographic Traveler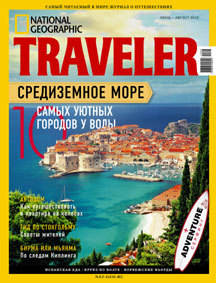 In the new issue of National Geographic Traveler magazine readers will find a fascinating guide to Stockholm created with suggestions from local residents. Situated on the eastern shore of Lake Mälaren, the largest city in Sweden has always been an interesting tourist destination. National Geographic Traveler has prepared the best travel route around the Swedish capital for readers.
In the "Our Choice" section, editors suggest a stroll through the streets of Famagusta (Cyprus), Cinque Terre (Italy), Corfu (Greece), Kotor (Montenegro), Trogir (Croatia), Byblos (Lebanon), Menton (France), Ephesus (Turkey), Gibraltar (U.K.) and Soller (Spain).
Readers will find a thrilling report of a hot air balloon trip over Burma (Myanmar). They will also learn how to become a monk in a Buddhist temple and why women of the Chin tribe tattoo their faces. In the "Diary" column, readers will find a record of impressions riding a riverboat down the Volga, and the "Weekend" section explains what to do in Bergen and which of the Norwegian fjords to see if you don't have much time.
The "Adventure" section features surfing, tells what it takes to become a surfer and names the best surfing locations in Australia, Indonesia, Portugal, Peru, Africa, the U.S. and Russia.
The summer issue of National Geographic Traveler was released for sale on June 19.