Women's Health at Usadba Jazz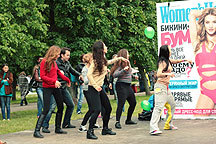 Women's Health magazine took part in the Usadba Jazz Festival held on June 2 and 3 in the Arkhangelsk Museum gardens.
Women's Health magazine organized a promo zone on the festival grounds where guests could relax between sets and pass their time to good purpose. Guests entering the zone, decorated with bright balloons and the Women's Health logo, had a chance to try the most interesting contemporary dance styles: Zumba, street dance and hot Latin moves.
The workshop was conducted by instructors from the D-Fusion by GallaDance studio, and the young women present were happy to join in the fun despite the rainy weather. During the breaks between dances, the ladies could relax on ottomans, leaf through the latest issue of Women's Health or play an exciting game of Anti-Caloric Darts for prizes offered by the magazine.
Usadba Jazz, Russia's largest open air music festival, has been held since 2004. Despite the bad weather, the festival was once again distinguished for its high level of music and organization as well as for the variety of its music and entertainment programs. This year's Usadba Jazz brought together more than 15,000 fans of good music and pleasant recreation.