National Geographic Russia in the Russian North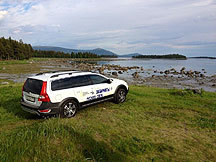 A joint expedition by National Geographic Russia and Volvo Car Russia kicked off in Murmansk on June 17, with participants navigating the route on Volvo off-road vehicles.
The rally began in Murmansk, the world's largest city located above the Arctic Circle. The route runs through Kandalaksha, Umba, Kem, Belomorsk, Pudozh, Vytegra, Kondopoga, Kizhi and Petrozavodsk, with participants finishing up in St. Petersburg. The goal of the expedition is to study the architecture it encounters along the route, along with the historical monuments and nature reserves in each area.
The expedition members set out from the gates of the Volvo dealership in Murmansk driving three vehicles: a powerful XC90 SUV, an XC70 crossover terrain model and a compact crossover XC60. Thanks to their uncompromising safety and reliability, all-wheel drive, adaptability to the harsh northern climate and road conditions and their sleek Scandinavian design, these models have become sales leaders for Volvo in Russia.
The National Geographic Russia rally team includes magazine editor-in-chief Alexander Grek, creative director Ruslan Guseinov and chief photographer Andrei Kamenev. Volvo delegated its press manager, Anton Prozorov, to represent the company in the rally.
At the Volvo dealership in Murmansk prior to the launch, Kamenev conducted a workshop on "how to take good travel photos." The chief photographer is famous for his photos of travel, nature and architecture. The dealership was transformed into the site of a small photo exhibition of Kamenev's work titled "Roads of the World."