Cosmo.ru and Cosmoshopping.ru in Google Media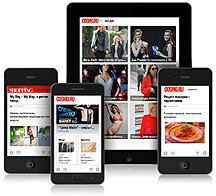 You can now visit the Cosmo.ru and Cosmoshopping.ru sites using any gadget thanks to the new Google Media application. Just download "Google Media" at no cost from Google Play or the App Store and read the material on any convenient device: the iPhone, iPad or any gadget using the Android operating system. You can read any of the downloaded articles in offline mode at your convenience.
The application makes available a wide range of resources on various subjects from around the world, but Cosmo.ru and Cosmoshopping.ru are the only Russian sites for women included in the service's library. Cosmo.ru appears on the opening page immediately after the app has loaded, and Cosmoshopping.ru is located in the "Lifestyle" section. By selecting the transmission to your personal library function, both Cosmo.ru and Cosmoshopping.ru are available upon opening the application.
The Cosmo.ru material made available with the app includes the Fashion, Beauty, Celebrities and Recipes columns, and the World of Cosmo section offers Cosmopolitan magazine news and events. The Cosmoshopping.ru material includes Fashion News, the Celebrity Styles section and Street Style photos uploaded by readers. The material is updated hourly and the latest news and colorful photos found on the Cosmo.ru and Cosmoshopping.ru sites are displayed conveniently on whatever gadget you use. Now, all you need to read your beauty horoscope in the mornings, share the latest celebrity gossip with your lady friends over lunch or prepare a light dessert for dinner is the Cosmo.ru feed in Google Media.
You can share your favorite articles with friends via Facebook, VKontakte and Twitter, or by posting them as e-mail.