Na Rublyovke Newspaper Holds Ecofest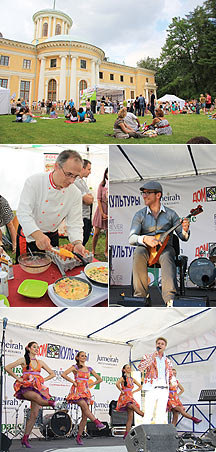 The Ecolife Festival, the main event of the Na Rublyovke anniversary year program, was held in late June in the Arkhangelsk museum and estate.
Five themed zones were set up in the museum's main building. In the Eco House zone, participants in a workshop held by the Dom Kultury family club wove wreaths and drew pictures. In the Eco Products zone, guests prepared and tasted milk and baked goods from the Kulnarium company and omelets from the Roskar poultry factory and Praxis-Ovo company. (The chickens at the poultry farm are not kept in cages and eat only ecologically pure food.)
In the Eco Cosmetics zone, the 36.6 pharmacy chain presented Fruit Forever makeup and products made from flax seed and herbs. At the Yoga Journal booth in the same zone, specialists from the Kerala yoga and Ayurveda center gave head and hand massages. In the Eco Fashion zone, visitors were able to view vintage covers from the Italian publication Grazia and visit an improvised version of the Yves Rocher on Tverskaya beauty salon.
The Lifeline charitable foundation held workshops on pottery-making and making flowers out of suede. In the Ecotourism zone, a raffle was held for free subscriptions to National Geographic magazine and gift certificates donated by the Jumeirah Group and Magnus Club for accommodation in European and United Arab Emirates hotels.
The general lottery raffled off gifts donated by Na Rublyovke newspaper's friends and business partners. They included certificates good for a children's physical at the Premier Medica clinic and discount cards and gift certificates from the Kangaroo chain.
The Dom Kultury family club and Praxis-Ovo company acted as general partners for the event. The 36.6 pharmacy chain and Jumeirah Group served as official partners.