National Geographic Russia Invites Readers to Kamchatka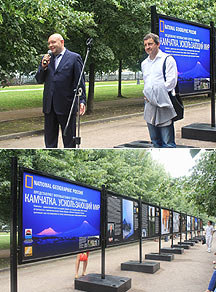 An outdoor photo exhibition titled "The Elusive World of Kamchatka" opened on Svetnoi Bulvar in Moscow on July 11. The exhibit features works by renowned nature photographer Sergei Gorshkov.
Kamchatka is a stunning place, where the cold waters of the Pacific Ocean meet the warm exhalations of the Earth, where nature remains in its original, pristine condition. Fire-breathing volcanoes and geysers, rugged snow-capped peaks and mountain lakes, turbulent rivers teeming with fish, wild animals and nature parks: Visitors will discover the beauty of mysterious Kamchatka as they take this photographic journey with National Geographic Russia and renowned photographer Sergei Gorshkov.
Sanoma Independent Media Board of Directors member and National Geographic Russia Director Tatyana Shalygina gave the opening remarks at the event, thanking all of the project's business partners and the assembled visitors.
She was followed by Nikolai Pegin, deputy chairman of the Moscow office of the Kamchatka region administration. He noted that the photo exhibition would increase tourism to Kamchatka. Nikon Public Relations director Dmitry Khublarov offered thanks on behalf of the company to the event's partners and offered words of praise for the photographer's work.
The official part of the program ended with a talk by Sergei Gorshkov. He spoke about his visit to the amazing and mysterious Kamchatka. He then treated guests to a tour of the exhibition, explaining in detail where and under what circumstances each image was captured.
Anyone interested in seeing these striking photos of Kamchatka can do so until August 11. The exhibition will provide numerous Muscovites and visitors to the capital with the rare opportunity to  personally encounter the beauty of this remote and inaccessible region.
After the close of the Moscow exhibition, the photographs will be sent to Petropavlovsk-Kamchatsky so that the  local residents there can enjoy them.