Number One From Custom Publishing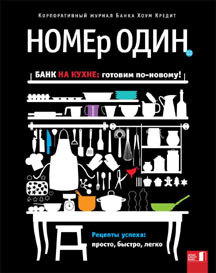 Most Russians find dealing with credit organizations to be confusing and unpleasant. But could that be changed? Readers will find the answer to that question in the summer edition of the Number One magazine for Home Credit bank, prepared by the Custom Publishing division of SIM.
The bank decided to break down the stereotypes that surround obtaining credit. As part of its FinMaga concept, it created the new "simple, fast and easy" principle,  which simplifies and greatly reduces the number of banking products offered, minimizes the size and complexity of the contract and sets up interactive screens and menus and many other aids in each office.
In the future, getting a loan or opening an interest-bearing account should be just as fast and easy as buying a hamburger at McDonald's. In this issue, the bank's senior managers explain how they will achieve that. For the occasion, they donned aprons and stepped into the "banking kitchen" to brew up a recipe for success.