Collezioni at Anniversary Moscow City Racing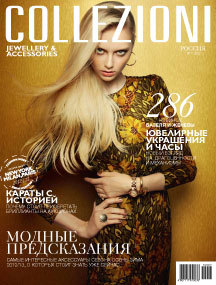 Collezioni magazine participated in the auto show Moscow City Racing, the brightest event of summer 2012, which took place at Bolotnaya Ploshchad over the weekend.
As part of the show, Collezioni organized a lounge zone for guests, where they could have a look at the latest magazine issues and enjoy fresh non-alcoholic cocktails from Evian, which were most certainly quite refreshing in the sweltering heat. At the magazine's stand decorated by Kartell (Italy), makeup artists from Benefit made guests up and gave useful recommendations for everyone who wished to create a new image. The magazine's ad banner was placed at the entrance to the stand.
On Saturday, July 14th, the show zone was open for everyone who wanted to enjoy the weekend. Formula 1 exhibition races took place in the heart of Moscow on Sunday, July 15th, accompanied by commentary from Alexei Popov, the Russian voice of Formula 1.