National Geographic Russia for the iPad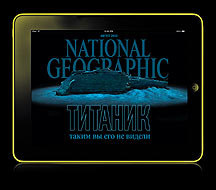 The Russian edition of world famous National Geographic magazine can now be found not only in stores and newsstands, but also in the App Store thanks to the new iPad version now available.
With new multimedia functions, the electronic pages of National Geographic Russia literally come to life before readers' eyes. In addition to the main articles and material, each issue of the electronic version of the magazine will include a host of interactive features: videos with sound, 3D illustrations, special effects and animations, maps and exclusive photographs. These additional functions enable readers to not only enjoy reading interesting material, but also to immerse themselves in another dimension of sights and sounds.
The Titanic is featured on the cover of the August issue of National Geographic Russia. Until recently, studying the undersea wreck was like trying to explore the center of New York City during a thunderstorm at night — using only a flashlight. But that changed when an expedition in 2010 managed to photograph every square inch of the wreck — an area measuring 5 km x 8 km. As a result, it has been possible to construct a detailed reconstruction of the sunken ship. The iPad version of the magazine offers readers the chance to look at an overall view of the wreckage, zoom in for a closer look and even rotate the images in 3D. James Cameron even created an animated reenactment of the Titanic disaster especially for this issue.
Also in this issue:
In pursuit of lightning. A wild journey through the American Southwest with Tim Samaras and his camera that can capture images at almost 1.5 million frames per second.
Tibetan fever. A few days in the lives of people who gather parasitic mushrooms that are worth their weight in gold.
Also: northern gannets — the ideal sea hunters; East End — the most run down district of London and the chances for its revival after the Olympics; bicycles, telephone booths, pythons and turning a mouse into an elephant.