Yes! Magazine in August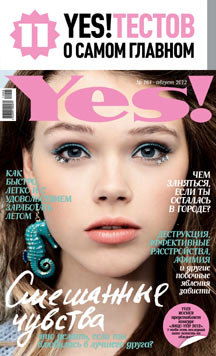 The August issue of Yes! explains how to spend the last summer month with profit and pleasure:
quickly and easily find your dream job;
what to do if you have to stay in the city for the summer;
how to do original summer makeup
how to realize ideas of famous designers at home and create fashionable handmade stuff;
how to make a scrapbook of the summer, and much more.
Also, Yes! discovers the source of envy and tells how to fight it, explains friendship between men and women and what to do if it turns into love.
In addition to the August issue readers receive a special summer supplement — a bright and fascinating collection of 11 "Yes!Tests" to help them find answers to the most important questions about themselves, boyfriends and girlfriends.