New Version of Yes.com.ru Site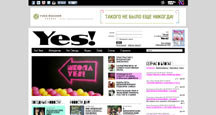 The new version of the Yes! magazine website was launched. The design is now cleaner, more concise and compact but remains just as stylish and youthful as ever. The structure and navigation functions have also changed, making it much easier for users to locate content and find their way around the site.
The yes.com.ru home page features a sliding banner that focuses attention on the most important materials. Just below, users will find the latest celebrity news and headlines. A separate block of space is devoted to contests — one of the most popular and most visited sections of the site.
New headings round out the Fashionable section: celebrity, street and beauty trends have been added to the traditional fashion show trends. News is now presented in two categories: fashion news, which includes reviews of new collections, new brands and stores and information on sales, interesting lookbooks, etc.; and beauty news that includes reviews of new beauty products, new collections and so on.
The new Interactive section of the site includes the previous blogs, contests and horoscope materials along with the following new sections: Yes! Pictures — the most striking photos from Yes! magazine, Well Said — a collection of the most intelligent, sophisticated, life-affirming and wise quotes, and Yes! Hero — an interactive column where the magazine profiles readers using photos and information users submit with a special "Tell Us About Yourself" button on the site.