Agroinvestor Forum Held in Volga Region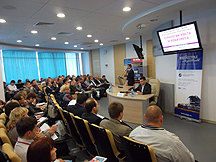 The third annual Volga region agricultural business forum, "Strategies for Agribusiness Growth," was held in Nizhny Novogorod. Agroinvestor magazine organized the forum, Ingosstrakh acted as general partner, and the Regnum information agency served as media partner.
More than 100 people from 17 regions and republics of the Volga Federal District and large neighboring regions took part in the forum. They included agroholding, agricultural, food and food processing companies, agricultural suppliers, federal analysts and specialists, banks, members of the regional administration and reporters.
Forum speakers included Agriculture Ministry Public Council Chairman Andrei Danilenko, National Union of Pig Breeders General Director Yury Kovalev, senior managers from Sberbank and Gazprombank, as well as representatives of Volga region agricultural businesses and agroholding companies. Forum participants included the NMZhK Group, Doronichi agroholding, Ak Bars holding company, the Nizhegorodsky Khleb association, and agricultural firms Seimovskaya, Rosagro, Ilinogorskoye, Same Deutz-Fahr Russia, Rostselmash, Du Pont, Amazone, PIC, Russkiy Gektar Urazhai (of the Sinergiya Group), Russkoye Polye, Zolotoy Kolos and others.
Forum participants discussed agricultural business prospects in light of WTO membership and Russia's integration into the Customs Union, shared their opinions about the seven-year plan for developing the agricultural sector recently adopted by the government, this year's estimated harvest and conditions for early winter planting and discussed the possible effects of the crisis in the global financial system on the agricultural industry. Experts and analysts also offered their predictions for the development of the agricultural commodities market from 2012 to 2020.