Yes! Fashion Issue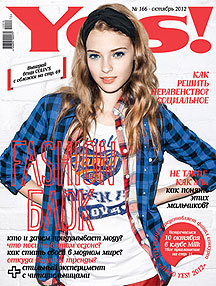 The October issue of Yes! magazine is devoted to fashion. In a special section, readers learn who dreams up fashions and why, what to wear this season, how to find your own look in the world of fashion and where trends originate. Four young women working in the fashion industry describe how they got into the profession. The issue includes a large sampling of trends and street fashion. What's more, editors conducted an experiment with two readers who radically changed their image.
In the section devoted to relationships, young women will find answers to the most important questions about the differences between boys and girls. They can also take a test and use the results to discover the best way to relate to their boyfriends. Yes! also prepared a detailed article about social inequality.
In addition, readers will find an invitation for two people to attend the final round of "The Face of Yes! in 2012" competition to be held on Oct. 10 at the Milk Club. The brightest stars of the year will be onstage, including Viktoria Daineko, Alexei Vorobyov, 5sta Family, the Marsel group, Elvira T and others. Yulianna Karaulova and Aretem Korolev will MC the event. Guests will enjoy an Yves Rocher beauty studio, a festive raffle, a drawing for a romantic trip to Barcelona provided by Oktogo.ru and many other pleasant surprises.