Men's Health in October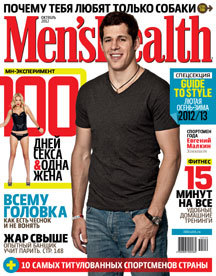 The October issue of Men's Health magazine features the best athlete of 2012 — hockey player Evgeni Malkin.
Although many Russian athletes excelled at this year's Summer Olympics in London, the editors of Men's Health magazine chose hockey player Evgeni Malkin as the top sports hero of the year. A bronze medalist at the World Hockey Championships in 2005 and 2007 and a silver medalist in 2009, Malkin finally rose to the highest step of the podium as the main star of the Russian national Olympic hockey team. In addition to that gold medal, Malkin, who plays for the Pittsburgh Penguins U.S. hockey club, was awarded the Hart Trophy as the NHL's most valuable player of the year. He is also a two-time Art Ross Trophy recipient as the league's leading scorer and has won the Ted Lindsay Trophy, signifying the most valuable player as voted by members of the NHL Players Association.
Interest in Malkin has been growing recently. Due to the NHL lockout, the center forward for the Penguins returned to Russia to play in the Kontinental Hockey League with his home team, Metallurg Magnitogorsk for the current season. Find the full story of Malkin's success in the new issue of Men's Health.
The October issue of Men's Health also includes the traditional Style Guide supplement. With 50 pages of fashion trends, the guide will help readers pass the coming winter in comfort.