The Moscow Times – 20 Years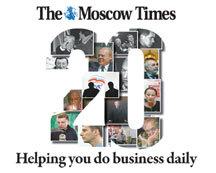 The Moscow Times newspaper has turned 20. The first issue of the English-language daily newspaper was published in Moscow on Oct. 2, 1992. That was when Derk Sauer (publisher), Annemarie van Gaal (director), Michael Hetzer (editor-in-chief) and a few other like-minded people laid the foundation of what would become the Independent Media publishing house.
Twenty years have passed since that day. With a staff of 110 and a print run of 35,000 copies, The Moscow Times is a small but influential newspaper that is unique in many ways. It is a Russian newspaper that was founded by a Dutch company and published according to U.S. journalistic standards. That makes the editorial board an international collective that combines two things: a love for their work and a love for Russia.
Derk Sauer recalls: "We have written about everything over the last 20 years, from the serious to the absurd. We write what we see, and we say what we think. I am often asked, 'How does The Moscow Times remain an independent newspaper? Don't the authorities interfere in your work?' I can honestly answer that they have never interfered once in all of those 20 years. Of course, we occasionally get calls with complaints from officials and public relations departments, just as many other newspapers around the world probably receive. But does that stop us? Not at all. Why? Because even those find the newspaper not to their liking recognize that we take a restrained and fair-minded approach. And most importantly," Sauer said, "even if we do criticize, we do so solely out of love for this great country."