National Geographic Russia Collection at Ozon.ru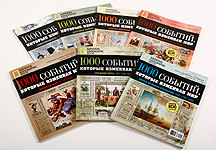 National Geographic Russia presents a seven-volume series titled "1,000 Events That Changed the World," which contains a thousand separate articles guiding the reader through the history of civilization. With unique information that remains relevant year after year, the series makes an excellent gift.
Each volume in the series covers an entire era, and each article covers a single event, showing how it contributed to shaping the world as it exists today. In the "Interconnections" section, learn what place each event had in relation to others. Eyewitnesses and contemporaries relate their version of events in the "Straight Talk" section. Illustrated essays provide a more detailed analysis of some of the most compelling events.
The collection consists of seven issues: "The Ancient World," "The Middle Ages," "The Era of Great Discoveries," "The Era of Revolutions," "The Battle of the Empires," "World Wars" and "The Modern World." The full collection is available for sale at the online store Ozon.ru.