Wedding: A Piece of the Sun at Your Nuptials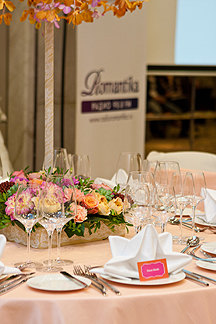 Wedding magazine again brought together future brides and grooms this past weekend for more lessons in the Wedding School. The event was held in the Intercontinental Moscow Tverskaya Hotel and gave participants the opportunity to prolong their summer for a few fleeting moments.
Specialists from the Two Oranges wedding agency answered the future newlyweds' most burning questions: How to optimize the budget? How to plan the day? How to choose a decorator, photographer, master of ceremonies and performers? Where to look for them? And, how to adhere to the chosen theme of the wedding?
The Wedding School participants enjoyed a rich and interesting program: dance group performances, the Dancing Waiters flash mob, a barman show, a workshop by an image-maker, a photographer, and a practical workshop by a professional wedding decorator. Specialists from the Sally Hansen company treated the future brides to spa treatments for their hands and feet. Astrologist and palm reader Svetlana Dragan, who appears on the Rossia and Domashny television channels, told guests how to use the position of the stars to select the best month and day for their wedding, and held personal consultations with interested young couples.
Useful prizes were also raffled off during the event: a gift certificate for newlyweds from the Spa InterContinental by Elemis, a brunch for two at the Intercontinental Hotel and the book "The Perfect Wedding – or How to Organize the Event of Your Dreams," published by Wedding magazine. At the close of the event, all the participants received complimentary gifts and were invited to a festive buffet that ended with a sampling of a three-tiered wedding cake made by the Intercontinental Moscow Tverskaya Hotel.