Your Trust Bank: Reloaded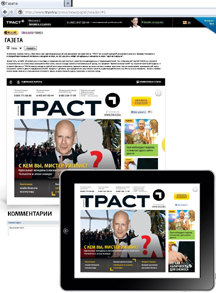 The iPad and web versions of the Your Trust Bank newspaper have been released with a new and more convenient design and technical functionality. Social networking and browsing features, among others, have also been added. The web version supports all popular browsers, and iPad users can download the application from the App Store.
As before, several departments of the Sanoma Independent Media publishing house collaborated to develop the electronic versions of the newspaper. The Custom Publishing division creates the editorial content, and the Digital Publishing and Internet Projects division implements the unique technical solutions.
The iPad and web versions of the newspaper were first released in early 2012, becoming the first electronic versions of a corporate publication for the financial sector. They electronic versions were designed to enable Internet users and tablet PC owners to quickly and easily access the unique content of the custom Trust Bank publication at any time or place. The app and website offer a compact layout, easy navigation, embedded audio and video files and the means for Facebook and VKontakte users to leave comments on articles — all of which make the electronic publication modern, attractive and easy to use.
The total number of page views for the newspaper on the bank's website increased by 36,000 between May 15 and Sept. 15, 2012. On average, users spend 50 percent more time viewing those pages than they do other sections of the site.