November Issue of National Geographic Russia for iPad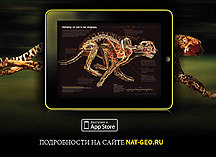 The top story in the iPad version of the November issue of National Geographic Russia reveals how the cheetah — the fastest animal on earth — is able to run at such incredible speeds. The interactive graphics and video material of the iPad version provide an excellent complement to the main materials and illustrations found in the magazine.
Also in this issue:
Emperor penguins. Although clumsy on land, they can reach torpedo speed underwater. Scientists recently discovered how they manage to swim so fast.
Camera sights on bears. Each year, photo safaris are becoming an increasingly popular form of recreation — and for some, a profession.
Reading dunes. Having learned to fly a paraglider, an NG photographer mastered the language of dunes: the shape of the sandy ridgelines helps him determine the wind direction and make quick landings — even in a storm.
Territory of ice. For more than a century, the harsh, inhospitable and permanently icebound Franz Josef Land has irresistibly drawn Russian explorers.
Vikings in America. Brave Scandinavian sailors headed for the New World in search of furs, ivory and trading partners.
Explore the world with National Geographic Russia magazine!
The issue became available in the App Store on Nov. 1.