Yes! in November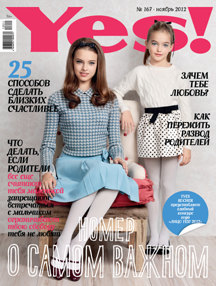 Yes! magazine has never followed the path of most other media that often promote passing and dubious values. Instead, it has adhered to a high moral and ethical standard for many years. With each issue, Yes! tries to help its readers become a little kinder and more sympathetic, and always tries to help them solve their problems. This is especially true of this issue, which focuses on such eternal values as family, friendship and love.
In November, an article explains why young women often make less than ideal choices in a mate.  Psychologists explain the reasons behind it, what it can lead to, and why it is better not to date a man if it is clear from the start that nothing serious can result from it. Editors also try to understand the nature of true love that lasts a lifetime. That piece is followed by a quiz: "How ready are you for a serious relationship?"
The "Relationships" section features an article on problems with parents that includes specific situations, commentary by psychologists and answers to questions young women have about adult life. In the "Experiences" section, readers describe how they survived their parents' divorce and psychologists give advice to those who are going through that problem right now.
In the "Before and After" column, one reader and her mother dress each other up according to their own tastes, and a stylist and makeup artist will then give them both a new and fashionable look.
Read the warmest issue of Yes! in the cold month of November!