Gold for Custom Publishing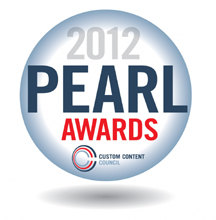 The Your Trust Bank newspaper in print, iPad and online form — a joint project by Custom Publishing Sanoma Independent Media (SIM) and Trust National Bank — won the prestigious international content marketing 2012 Pearl Awards for Best Integrated Print and Web Program B2C.
The SIM project was the only Russian entry from among the 628 submissions by publishers in 15 countries. The Your Trust Bank publication was the first Russian project ever to win the Pearl Awards.
Custom Publishing division director Galina Ustinova said, "We are grateful to Trust Bank for our long collaboration and the opportunity to develop the project creatively over the last four years. It was during this time that the Corporate Media Association of Russia named the publication the Best Corporate Newspaper for Financial Market Clients. It is doubly pleasing to gain international recognition and the high opinion of the professional community for this unique, integrated project," she said.
Your Trust Bank is the only Custom Publishing project produced in three different media — print, online and mobile format. This was made possible thanks to cooperation between the Digital Media and Internet Projects departments at SIM. The gold medal from the U.S competition is one more confirmation that the future belongs to integrated projects in both mass market and custom publishing.
The 2012 Pearl Awards have been held since 2004 by the Custom Content Council, a leading U.S. organization representing custom media professionals.