New Year's Issue of National Geographic Traveler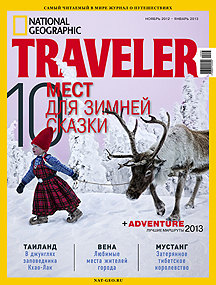 The latest issue of National Geographic Travel looks at the 10 most exciting winter travel destinations. See penguins in the Antarctic, ride a sled pulled by a reindeer team in Finland or stay in a snowy Japanese village — magical winter getaways for every taste are yours for the choosing!
Also in this issue:
In "Strategy," everything about navigation: the best devices for experimental treks, the best maps for traveling around Russia and the best programs to download onto your smart phone.
In "Guide," 15 tips from locals in the Austrian capital.
Report from the Lost Kingdom of Tibet, the Upper Mustang. An NGT correspondent traveled to the little-known Nepalese kingdom of Lo, also known as the Upper Mustang. Trekking over mountain passes and battling dust and wind, our author reached a place that seems to have gone unchanged for the last one hundred years.
Diary from Thailand: Our correspondent visited the Khao Lak nature reserve where she made the close acquaintance of pythons, elephants and scorpions.
Weekend in the rhythm of the salsa: a detailed guide for spending a weekend in Havana.
The "Adventure" column describes the best adventure routes for 2013.
The issue was released for sale on Nov. 20.