Vkusno i Polezno in December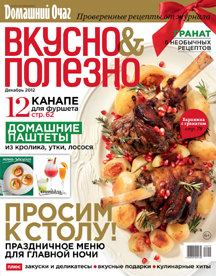 New Year's is a time of new wonders, and even the Christmas tree can become a tasty treat. How? Find the answer to this and many other questions in the December issue of Vkusno i Polezno.
For example, learn what to cook for your New Year's meal, how to mix the most delicious cocktails and which delicatessen items are best for the holiday. Also, why it is better to give a tasty handmade gift, which snacks you should serve in a buffet, the best ingredients for pâtés and how to make a real gingerbread house with your children.
We all tend to get carried away at the holiday table, and so the Health column offers invaluable tips on how to survive the winter holidays.
All this and much more useful and interesting information can be found in the December issue. It goes on sale Nov. 27.