National Geographic Russia in December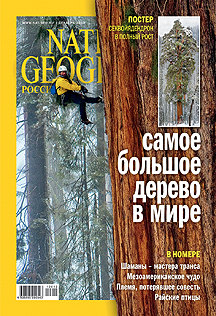 The cover story of the December issue of National Geographic Russia is devoted to the "Giants of the Forest," the giant Sequoia trees — or more precisely, the Sequoiadendron Giganteum. A unique poster inside the magazine enables readers to view the 75-meter-high tree in its entirety and surrounded by snow.
The Sequoiadendron Giganteum grow high in the mountains, bravely enduring the cold, snowstorms and lightning. They reach enormous sizes and titanic force, although they are not as tall as evergreen Sequoias or Redwoods. The "President" giant Sequoia has the second-largest volume of wood of all trees in the world. What's more, giant Sequoias grow only along a narrow 400-kilometer-long corridor on the western slopes of the Sierra Nevada Mountains in California.
Also in this issue:
Charlatanism or a divine gift? Shamans, healers of body and soul, are becoming increasingly popular.
Birds of paradise. Thirty-nine species of birds are considered the most beautiful on earth. Two researchers set out to find and describe each one. Eighteen expeditions later, they succeeded.
Savage tribe. Who are the Kayapo Indians — "children of nature" who need to be protected, or aggressive savages who should be feared? A trip to the Xingu Indian reservation in Brazil generated more questions than answers.
Underwater kingdom. The Mesoamerican Barrier Reef stretches along the coasts of Mexico, Belize, Guatemala and Honduras. A world of mangroves, sea grass and coral create a giant nursery for underwater fauna.
The issue was released for sale on Nov. 27.