Yes! in December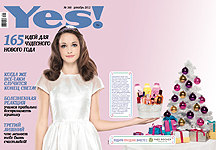 On the cover, the 2012 Yes! Face of the Year winner, Ellina Leksina — and inside, results of the year's main contest. The detailed report tells who made it to the finals, who won the "Yes!-style Girl" contest along with the right to become the editor-in-chief of the magazine for a whole month, who landed on the cover by winning the "Yes! Model competition and a full description of the awards ceremony.
The December issue of Yes! is devoted to New Year's. The issue features a special holiday section with 165 ideas for a wonderful New Year's. Editors help readers greet 2013 as real beauties by giving them a special test for choosing the right holiday outfit. An eight-page spread then illustrates the fashion and beauty trends relevant to each possible outcome of the test. There are also detailed graphic instructions for unique makeup techniques. Next, readers will learn how to create the holiday spirit at home. And for those who have trouble every year figuring out which gifts to give, editors made four lists of presents that will definitely please friends, parents and loved one.
In the article "In Review," readers can take stock of the year, make resolutions for the coming year and make great wishes at midnight on New Year's Day. And just to make sure that nothing mars the holiday, editors provide a few rules of behavior for emergency situations. And, per tradition, Yes! readers voted for the best movies, songs, actors, musicians, moms and lovers as well as the most important and interesting events of the past year. Celebrities also shared their opinions on the same.
Also, Yes! presents extensive information concerning the "end of the world": what apocalypse awaits us and whether we should be afraid.