National Geographic Russia in Petropavlovsk-Kamchatsky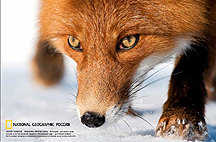 National Geographic Russia presents a photographic exhibition entitled "The Elusive World of Kamchatka" in Petropavlovsk-Kamchatsky. The exposition will run from Dec. 7 to 23 at the Kamchatka Exhibition Center. Admission is free.
"The Elusive World of Kamchatka" exhibition is a joint project of National Geographic Russia magazine, the Kamchatka region administration and Nikon. The exhibit displays 64 works by famed wildlife photographer Sergei Gorshkov, who worked for several years in the most picturesque reaches of Kamchatka to capture these fleeting and fascinating moments with his lens.
Gorshkov explained that Kamchatka is his favorite place to work, and that for years his main goal has been to record the lives of the region's wild bears. "The lens serves as a link between me and the natural world," Gorshkov said. "With its aid I see, shoot and try to convey the beauty of wild nature and at least part of what I saw and experienced in their elusive world — a world that is gradually disappearing from the face of the earth."
"The Elusive World of Kamchatka" exhibition graced the pedestrian section of Moscow's Tsvetnoi Bulvar in July and August, and in September it was presented to guests of the APEC Summit at the central promenade of the Far East Federal University park. And from Dec. 7 to 23, residents and visitors to Kamchatka will have an opportunity to admire the unique photographs as well.
The exhibition is being held in Petropavlovsk-Kamchatsky in the Kamchatka Exhibition Center at 62 Ultisa Lenina daily from 10 am to 6 pm. Admission is free. The Kamchatka region Investment and Business Ministry is providing official support for the exhibition.