National Geographic Russia Opens Exhibition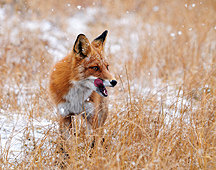 National Geographic Russia and the Russian Geographic Society with support from the BonAqua company present the "Wildlife of Russia" photo exhibition featuring the best submissions from the eponymous contest. The works will be on display from Dec. 11 through Jan. 13 at the Lumiere Brothers Photography Center at 3 Bolotnaya Naberezhnaya, Bldg. 1, in Moscow.
This is the second time that National Geographic Russia and the Russian Geographic Society have held the Wildlife of Russia national photo competition. Submissions were accepted through the www.nat-geo.ru website from May through the end of September. Winners were assigned in several categories: landscapes, mammals, birds, other animals, macro images, plants, from sunrise to sunset, nature in black and white, underwater photography, a story in pictures and young talent.
This year, BonAqua also introduced a new environmental nomination to the contest: "A Clean Future for Lake Baikal." Submissions were accepted from Oct. 22 through Nov. 4. Today, the world's deepest and cleanest freshwater lake is threatened by pollution. As a special new category in the 2012 Wildlife of Russia photo contest, "A Clean Future for Lake Baikal" is designed to draw attention to the ecology of this amazing region while there is still time to preserve it.
The www.nat-geo.ru site editor, along with the photo editor of National Geographic Russia worked for several months to select the best submissions, publishing each on the portal under the "Photo of the Day" heading. More than 43,000 works were submitted to the contest from every corner of Russia. Not only did more people submit more photographs from a greater range of locations than last year, but more importantly, the professionalism of the works themselves has increased.
The jury for the 2012 "Wildlife of Russia" contest met in late October to choose the winners. Jury members included National Geographic senior photo editor Kathy Moran, National Geographic International photo editor Darren Smith, National Geographic Russia editor-in-chief Alexander Grek, National Geographic Russia art director Alevtina Sukhorukova, National Geographic Russia senior photographer Andrei Kamenev, National Geographic staff photographer Sergei Gorshkov and Russian Geographic Society editor and photographer Yaroslav Nikitin. The person submitting the work judged as the best overall photograph will receive the grand prize of 300,000 rubles.