Custom Publishing Invites You to the Dinner Table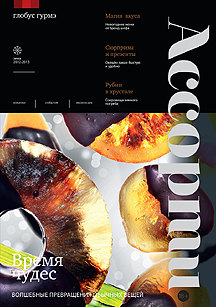 New Year's is a special holiday when everything should be magic. That's why the winter issue of Assorti magazine, produced by the Custom Publishing division of Sanoma Independent Media for the Globus Gourmet deli chain, contains so much that is out of the ordinary.
The Globus Gourmet chef invites you to try new renditions of traditional holiday dishes. The deli shelves are stocked not only with exclusive products from all over the world (the publication explains why those particular items were selected) as well as also fresh exotic fruits from tropical climes. The new issue of Assorti explains the proper methods for storing and preparing each.
As holiday gift ideas, Globus Gourmet magazine again offers delicious food packages — either ready-made or customized — as well as something new for the winter season: cozy and warm wraps from Wales and Bavaria along with designer candles from the Engels Kerzen company.