National Geographic Russia for 'Project Dinosaur'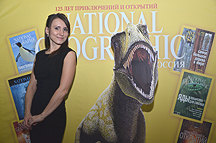 National Geographic Russia gathered its business partners and friends on Feb. 5 for a pre-screening of "Project Dinosaur" at the Solovei movie theater on Krasnaya Presnya.
Guests enjoyed free soft drinks and popcorn prior to the screening and posed beside a dinosaur to have their photos taken against the backdrop of a National Geographic Russia cover. They then received ultra-high-quality prints of the photos produced by an Epson L800 printer as they left the film.
"Project Dinosaur" is an adventure thriller depicting encounters with inhabitants of the Mesozoic era. The film chronicles a fictional group of researchers that travels to the Congo in search of Mokele Mbembe, a semi-mythical African water creature. As the group traverses the dense Congolese jungle, they encounter numerous unexpected difficulties and are forced to fight for their survival. In addition to a series of dangers, the characters also face a collection of creatures that scientists believed had been extinct for millions of years. The film was directed by Sid Bennett, best known for his "Prehistoric Park" science TV series. Bennett drew on his prior experience and incorporated seemingly "found footage" to give the production a documentary look. The film was released in Russian theaters on Feb. 7.