National Geographic Traveler for the iPad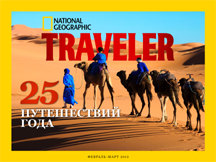 Readers can now download a free iPad version of the Russian edition of National Geographic Traveler, the world famous travel magazine. The app was made available from the App Store starting Feb. 20 and contains interactive navigation and bonus materials such as maps, videos and unique photographs.
National Geographic Traveler editor-in-chief Alexander Zheleznyak welcomed readers to the electronic version of the magazine with a video message. "The National Geographic brand turns 125 in 2013," he said, "counting from the founding of the National Geographic Society. Throughout that time, the NG family of publications did more than just write about vacation destinations: It primarily acquainted people with the world. Each article we publish is full of new emotions and information. And most importantly, NG Traveler shows how you can fulfill your dreams."
The new issue of National Geographic Traveler features the top 25 tours of the year: readers are invited to track rhinos in Namibia, go wine-tasting in New Zealand, scale a glacier in Iceland, learn to bake bread in Romania, roam through villages in Nepal, spot an Azores bullfinch and visit a slave traders' fortress in Ghana. 
Also in this issue:
Wild West. NGT correspondents drove from Denver, the westernmost city of the Great Plains, through the Rocky Mountains and the Martian landscapes of Utah to the canyons of the Colorado River and the rocky landscape of Arizona. The report includes videos of the trip and a route map.
Ten winter trips. In search of snow: see Niagara Falls surrounded by snow, chase penguins in the Antarctic, take part in a pagan festival in Ireland, ride a sleigh in Finland and try living in a tiny village in Belarus.
Strategy. Backpacking: world travel, the light and inexpensive way.
Belgium. A detailed guide for a weekend in the medieval towns of Bruges and Ghent.
Vienna. City guide: tips from locals.
Kingdom of the Mustang. Report: journey to the remote kingdom of Nepal.
Canyoning. Where to go? The best locations for canyoning, from Russia to the United States.
Adventures of the year. A roundup of adventure tours. Sail a yacht among the Cyclades islands, trek by foot on Svalbard — the kingdom of walruses and Arctic bears — and visit Kevin Richardson, creator of an African reserve that accepts volunteers to care for lions and tigers.
For more information, visit www.nat-geo.ru.