Wedding School: Love in the City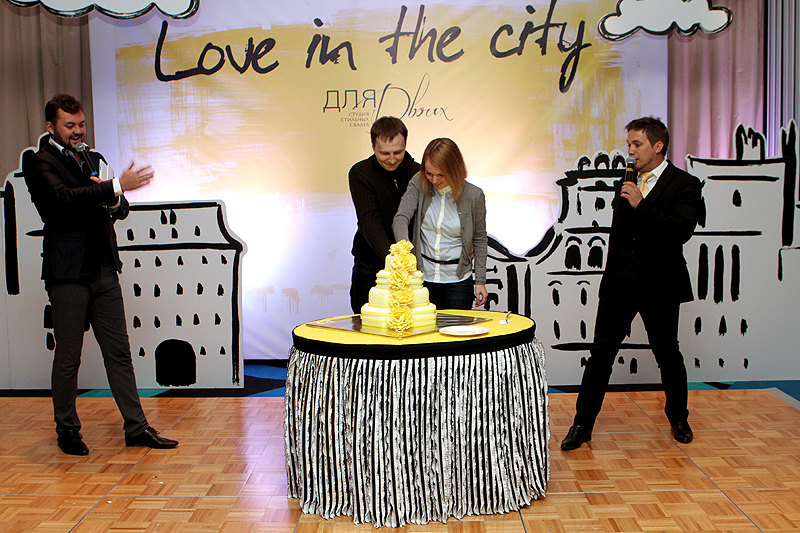 The most recent session of the Wedding School was held at the Radisson Blu Belorusskaya Hotel in collaboration with the For Two stylish wedding studio. This time the topic was how to stage a unique wedding unlike any ever seen.
The For Two team used their rich imaginations to make ideal use of the hotel's meeting hall. The event was hosted by Roman Kupetsky and Roman Avtukhov, the goofy duo from Svoi Lyudi. Guests were treated to the talents of DJ Navigator, a live performance by the Silk group and the new and unusual Dancing Artist intermedia show, with the Show-Land company providing outstanding sound and lighting effects.
In addition to the main program, Wedding School participants could try out temporary henna tattoos by artist Polina Vdovina, listen to Lee tell their fortunes with tarot cards, get a first-class manicure by a Sally Hansen staffer, have stylist and image-maker Yevgenia Krivtsova give them a special wedding look in her makeup room and enjoy amazingly delicious sweets from Chocolate Guru confectioners.
Everyone who came was able to acquire a wealth of interesting skills. Maria Lvova, a wedding agency art director and one of the best organizers in Moscow, held a terrific workshop on professional wedding style, focusing on weddings held under a tent and wedding ceremonies held overseas. Guests could also have personal consultations with the wedding agency founder. Participants of this Wedding School learned the algorithm for creating a successful wedding concept, from the basics to the details.
Following those activities, guests turned to other elements of the ideal wedding. The Vanilla wedding dress salon presented its new collection, a selection that would be complemented perfectly with delicate pearls from Nason Pearl store. Stylist Alyona Rusakova and Yulia Shakirova, one of the best decorators in Moscow, teamed up to create the unforgettable atmosphere and matchless images for guests. Rusakova also joined Wedding magazine stylist Yekaterina Chepik and the Vanilla salon to create stunning images for the brides-to-be.
Guests could also take part in workshops by photographer Nikolai Zlobin, videographer Sergei Andreyev and the Liber Dance studio. The visiting Zoom photo studio presented its exclusive service: an animated book. This is a touching childhood entertainment executed on a professional level. Using a special technique, numerous sequential still frames are combined into a flip book that creates the illusion of a moving picture. Many people were won over by this charming way to record their wedding memories. Another unusual idea came from the Livestatue workshop: human "decorations" that will definitely make an unforgettable impression at any wedding!