From Venice to Moscow with Collezioni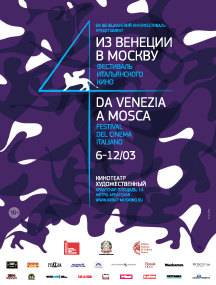 Collezioni magazine is serving as media partner to the film festival "From Venice to Moscow," held by the Khudozhestvenny movie theater on March 6 to 12.
A commercial for the magazine will run prior to the showings of the films throughout the week of the festival. Guests can peruse copies of the March issue of Collezioni in the lobby of the movie theater and the magazine's logo appears on all print materials and on the film festival website.
The Venice International Film Festival — or Mostra, as the locals call it — is one of the most influential film festivals in Europe and the world. The Moscow showing is held for the fourth time. The tradition begun by the previous Mostra curator, Marco Mueller, has continued under the festival's new artistic director, Alberto Barbera: The best Italian films from the official Venice program travel to Moscow. These include films entered in the main competition as well as those in the "Horizons" contest, in the parallel "Critics' Week" program and also films that were premiered apart from the competition. Viewers will find films of every genre, from rollicking comedies and intense dramas to poignant political films and epic documentaries.