New Editor-in-Chief of Collezioni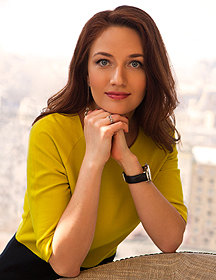 Collezioni magazine is pleased to announce that Tatyana Maximova has been appointed as the new editor-in-chief. Ms. Maximova has already served as the magazine's deputy editor-in-chief for several years. She assumed her new post on April 22 and immediately began working on the June issue of Collezioni.
Tatyana Maximova graduated from the V. Plekhanov Russian University of Economics with top honors and has more than 10 years of work experience with glossy magazines. She began her career as a Culture Department assistant for Glamour magazine, a glossy produced by the Conde Nast publishing house. She joined the staff at Collezioni magazine when it first went into publication in 2006 and continued for another seven successful years. Ms. Maximova also has experience working for the Richemont Luxury Group of the IWC brand. She is a recognized expert in the field of watches and fine jewelry, and her name is well known to readers who follow these subjects on the pages of Collezioni — one of Russia's leading magazines.
"It is both exciting and interesting to head a magazine that I joined when it first appeared on the Russian market," Ms. Maximova said. "In the eight years of its publication, Collezioni has become a respected fashion magazine with its own unique image and readership. I hope that my experience and skills will help me to preserve the things for which we take pride in Collezioni and enable us to make the magazine even better," she said. "We have big plans for development, many new ideas and creative ambitions. Collezioni has a strong creative team of which we can be proud." 
Irina Chernyak, the previous editor-in-chief of Collezioni, left her post in connection with moving abroad, but she will continue as the magazine's creative director. It was thanks to Ms. Chernyak and her more than five years with Collezioni that the magazine has gained a name among Russian fashion publications.