National Geographic and the Saber-Toothed Tiger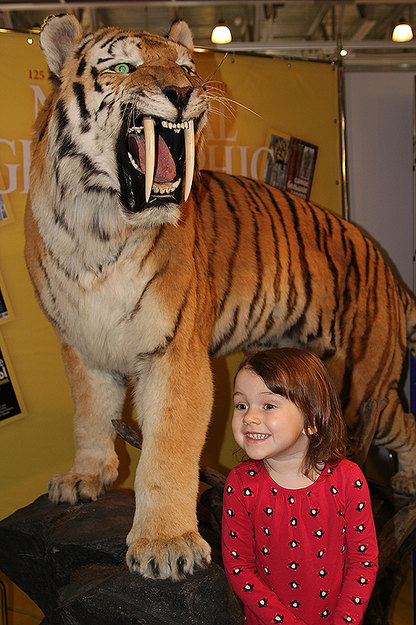 National Geographic Russia and National Geographic Traveler magazines served as media partners to Photoforum 2013, held at the Crocus Expo International Exhibition Center on April 11-14.
The cloning of extinct animals was the top story of the April issue of National Geographic Russia. With the advent of cloning and genetic engineering, it has become possible for extinct animals to once again walk the earth. National Geographic Russia in cooperation with the Ice Age museum and theater provided forum visitors with a unique opportunity to meet a saber-toothed tiger, or more precisely, a saber-toothed cat as the extinct family of animals is called.
Saber-toothed cats first appeared in Africa during the early and middle Miocene Era but eventually died out due to competition for limited food resources. The exhibition's lifelike reproduction of the cat, which could reach almost two meters in height when fully grown, generated a great deal of interest from visitors. Approximately 1,000 people posed for photos with the cat during the four days of the exhibition, and everyone admired the animal's size and realistic appearance. A photographic report can be found on the nat-geo.ru site.
At the National Geographic booth, visitors could obtain current and previous issues of National Geographic Russia and National Geographic Traveler and purchase six-month and one-year subscriptions to the magazines.