Men's Health Urbanathlon: Registration Continues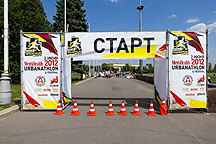 Registration is continuing for the Men's Health Urbanathlon adventure race that will be held on Krestovsky Island in St. Petersburg on June 8. Almost 500 participants have signed up in the past month alone. Approximately 1,000 participants and 5,000 spectators and fans are ultimately expected to take part in the festival that celebrates healthy lifestyles and sport. 
Team Fabric developed the route for this year's race based on the U.S. version of the competition. According to Men's Health Urbanathlon 2013 athletic director Alexei Yavich, "Race participants must run 10 km and must overcome a technical barrier every 1.5 km — high walls, narrow beams, road barriers and barricades and, of course, a net over a dump truck."
First place goes to the person who can successfully overcome all the obstacles and finish the race with the fastest time. Each participant will carry an electronic chip that they must swipe over a reader at the start, at designated points along the route and at the finish. Volunteers and judges will also be watching to make sure competitors complete the route according to the rules. Participants will compete in two categories: men's and women's. The top five finishers in each category will be awarded 30,000, 25,000, 20,000, 15,000 and 10,000 rubles respectively and will also receive gifts from the race's business sponsors.
Reebok is acting as athletic partner to the Men's Health Urbanathlon 2013 in St. Petersburg. The company is enabling people to waive the 250 ruble registration fee normally charged to participants on the event's website. Anyone buying Reebok running shoes marked "Choice of Men's Health Urbanathlon participants" — namely, men's Realflex Scream and women's Zigtech Shark models — will be given a special registration code at the checkout counter that they can use to sign up for the race at no cost. A list of participating Reebok stores can be found on the race's registration site: www.mhua.ru.