Yekaterina Movsumova Named Publisher of The Moscow Times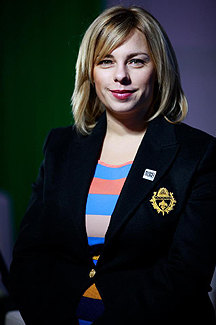 The Sanoma Independent Media (SIM) publishing house announces the appointment of Yekaterina Movsumova as the new publisher of The Moscow Times daily English-language newspaper effective as of May 23, 2013.
Movsumova graduated from the Law Faculty of the Moscow Open Social University and began her career with Ericsson telecommunications. She also holds an MBA.
Yekaterina Movsumova returns to SIM after 18 months working as the marketing director for the bid committee working to promote Yekaterinburg as the host city for the World Expo 2020. Movsumova worked as the marketing manager for The Moscow Times from September 2010 through December 2011. In 2011 she helped organize the Vedomosti Cup corporate regatta, named for the Vedomosti daily business newspaper. Prior to joining SIM, Movsumova worked for five years as a senior marketing manager for the Russian division of the German company Heidelberger Druckmashchinen AG — a world leader in the production of printing equipment.
"Yekaterina has a wealth of experience in practical business work. She is creative and full of energy, and it is precisely those qualities that bring success in today's market," said Mikhail Doubik, a board member at Sanoma Independent Media. "The Moscow Times is a powerful brand, and with Yekaterina on board it will become even stronger, primarily due to the rapid growth of our conferences, website and mobile phone applications," he said.
"The Moscow Times newspaper is a legendary brand," Yekaterina Movsumova said. "Ever since it was founded by Derk Sauer in 1992, it has been a model of independent and responsible journalism, covering events in the capital and opening up Russia to foreigners. I am very glad to become part of a professional team and to introduce new areas of business for the newspaper," she said.