Anniversary Issue of Wedding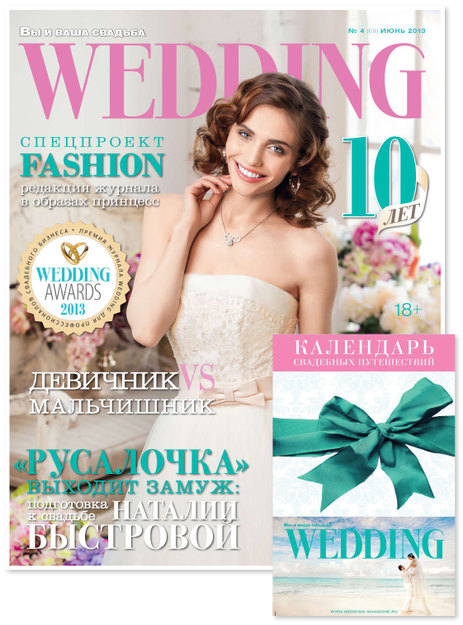 Wedding magazine prepared a special issue in honor of its 10th anniversary. Readers will find a special supplement: a calendar listing the best honeymoon destinations for each month of the year along with descriptions of the most exciting events and activities around the world.
In this issue:
Interviews with the designers of Spanish brands Jesus Peiro and Rosa Clara;
Special project: actress, singer and star of the musical "The Little Mermaid" Natalya Bystrova prepares for her wedding together with Wedding magazine;
Celebrity wedding section: Natalya Pereverzeva, the 2012 "Beauty of Russia";
Legends: American actress Jean Harlow was known for her hallmark long white dresses;
Organizing a bridal shower and bachelor party: top party scenarios from the magazine's readers;
Colorful photo project: serving rules for the wedding table;
Beauty: spa treatments in Moscow salons and new cosmetic products;
Floristics: striking images of wedding bouquets;
Fashion: Wedding magazine editors dressed as fairy princesses;
Travel: unusual honeymoon locations — houseboats, flying homes, tree houses, a trip to the United Arab Emirates and vacations in Paris.
The June issue went on sale May 28.