Men's Health Urbanathlon in St. Petersburg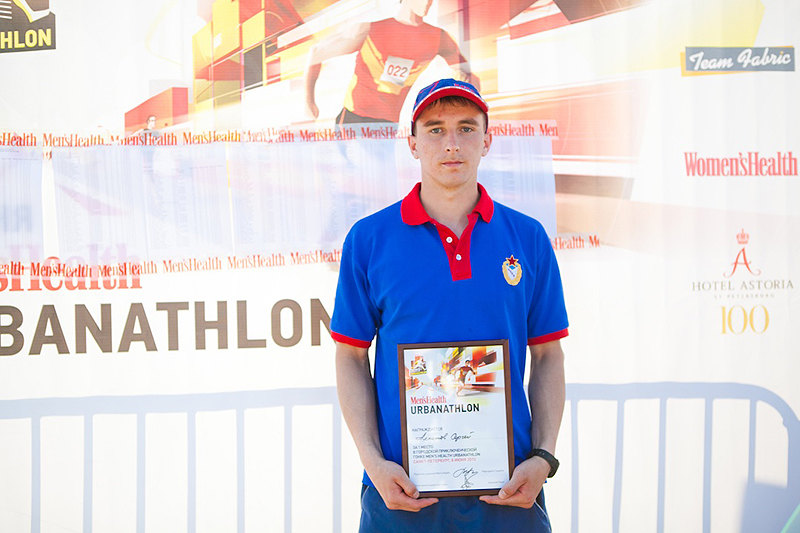 The Men's Health Urbanathlon adventure race was held in St. Petersburg on June 8. It was the second such event to be held in that city and the fifth in Russia. Almost 500 male and female readers of Men's Health magazine took part in the ambitious urban obstacle course.
The race was staged at the Primorsky Park Pobedy (Maritime Victory Park). Groups of six men and three women were the first to start at 2 p.m. The Men's Health Urbanathlon race route covered a distance of 9.5 km (5.9 miles), three-fourths of which was over asphalt, and one-fourth over dirt. Participants had to overcome technical obstacles every 1.5 km (0.9 miles): high barriers, balance beams, road barriers, mazes and a rope net stretched over a dump truck.
St. Petersburg resident Sergei Alpatov finished first among men. He ran the entire route and surmounted all six barriers in 31 minutes, 37 seconds. The next four prizes went to Alexander Kubyshev of St. Petersburg with a time of 33:16, Yury Usachev of Moscow (33:53), Dmitry Naumov of Vsevolozhsk (34:03) and Andrei Baryshnikov of Ramenskoye (34:33).
Zhanna Vokuyeva of St. Petersburg finished first among women with a time of 37 minutes, 47 seconds. The following four prize winners were Irina Safronova of Moscow (38:58), Yulia Kryukova (39:02), Anastasia Trubkina (39:46) and Yevgenia Kremena (40:53).
Men's Health congratulates the winners and hopes to see all of them at the starting line of the next Men's Health Urbanathlon. The magazine also wishes to thank all of the race participants and the partners to the event — Team Fabric, for providing all the technical support for the race; Reebok, for serving as athletic partner; 21st Century for insuring the runners and A-One television for providing media coverage.