Wedding School in Best Western Premier Mona Boutique Hotel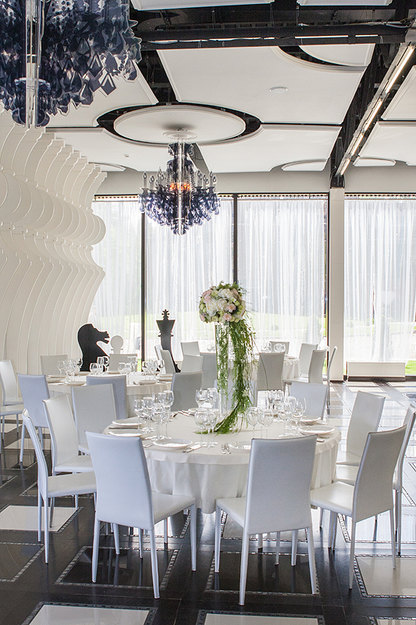 Preparing for a wedding is always a pleasant but anxious process. Every couple wants their ceremony to be the most beautiful and memorable. That was the main topic of discussion at the latest Wedding School session that was held with great success last Sunday at the uniquely designed suburban Best Western Premier Mona boutique hotel.
This time, Lestnitsa wedding agency specialists answered questions posed by the eager brides and grooms. Popular actor Vladimir Tishko served as master of ceremonies, enthusiastically explaining wedding preparation details and amusing the brides with scintillating jokes.
Brides and grooms took part in interesting workshops and viewed table setting designs by the Dolci e Fiori floral boutique in the Ball Room where the school was held. The boutique staff also demonstrated how to assemble a bridal bouquet and raffled off a certificate for a free bouquet.
Russian designer Hayam Hanukaev gave a presentation on how to choose a wedding dress and the different types of female figures and shared professional secrets on how women could find the dress of their dreams. Leading Celebrity salon VIP stylist Alexei Demidov spoke about the latest trends in wedding hair styles, demonstrated one of the new hairdos on a young lady present and then raffled off gift certificates. Astrologist and numerologist Maria Sklyar explained how to choose a month and day for the wedding based on the position of the stars, breaking the stereotype that couples should choose a so-called "beautiful date" for their ceremony. School participants were especially interested in tips offered by the Pushba Studio on how to create a photo album, print photos on paper and canvas, prepare wedding invitations and prepare for the wedding photo session and a "love story" photo shoot.
The evening finished with performances by the El. Castor group and the Fulgat Theater of Fire, followed by a prize raffle and a festive reception.