Men's Health Hero on the Cover of the September Issue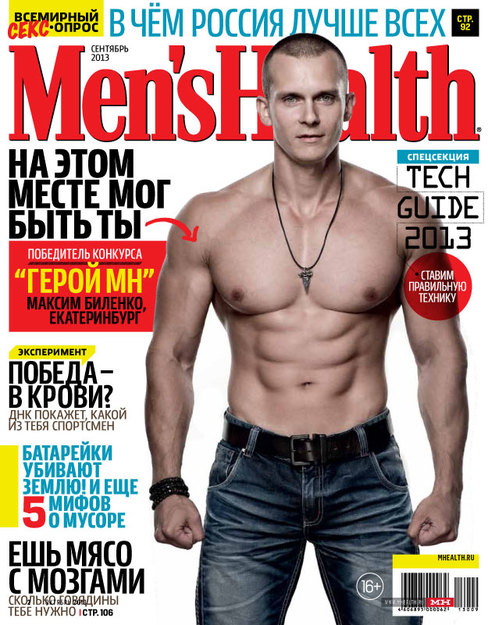 The September issue of Men's Health magazine with the winner of the 2013 Men's Health Hero contest on the cover went on sale August 13.
The 2013 Men's Health Hero became the largest contest in the magazine's history with the number of participants reaching 10,000 people. The competition was announced in the January issue in honor of the 15th anniversary of Men's Health in Russia.
The process of choosing the winners consisted of four stages. At the first stage, readers who wanted to participate needed to download their pictures and a story about themselves at the mhealth.ru website. This stage lasted until April 24. Every issue of Men's Health from February to July contained the special contest page with pictures of the most interesting participants. The Men's Health editorial jury selected about 200 questionnaires of the most deserving participants. Their personal pages were published at mhealth.ru for public voting. Participants were given the opportunity to conduct their own election campaigns by completing four tasks: share their exercise program and give their fitness advice, offer a male recipe, tell a joke and also list three qualities that help them to win the heart of any girl (the task from Women's Health magazine).
The public vote (the second stage) continued until June 14th. At the third stage, the jury of the Men's Health editorial staff chose five finalists, taking into account the results of the vote on the website, and invited them to Moscow for the shooting for the magazine. After the shooting, the editorial board chose the hero for the cover of the September issue of Men's Health.
The winner's title went to 29-year-old Maxim Bilenko from Yekaterinburg. Maxim owns a business and has a hobby: tuning cars and motorcycles. He participates in various competitions for tuning and travels a lot, both by car and motorcycle. For the shooting of the finalists in Moscow, Maxim came from Yekaterinburg by his BMW. Last spring in Thailand, Maxim had a serious accident and recovered, thanks to nine years of training experience in ultimate fighting.
The other four finalists of the 2013 Men's Health Hero contest became characters of the large publication in the Personal Trainer section of the September issue. Pictures of the rest of the 15 best participants after the website vote are published on the contest page in the September issue of the magazine.