The Moscow Times Editor Nominated for Finam FM Award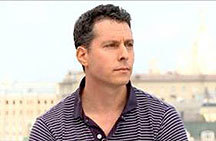 The Moscow Times newspaper editor Michael Bohm was nominated for the first Finam FM radio station award for professionals. He was noted for his participation in the program "Russia's poor work ethic: myth or reality?" Interested people can listen to the show and cast their votes for Bohm on the radio station's website.
Voting will continue through September 30. The contest results will be announced October 17.