Na Rublevke Newspaper Updates Website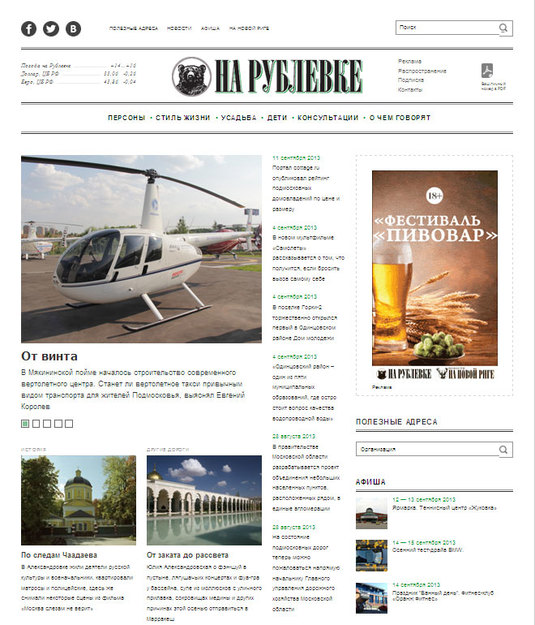 The glossy Na Rublevke weekly newspaper presents the updated version of its website narublevke.com. A new design has made the site more modern and functional.
The structure of the site's menu has changed. The numerous columns in Na Rublevke have now been grouped into thematic sections: "Persona," "Lifestyle," "Estate," "Children," "Consultation" and "The Latest Talk." The "Useful Addresses" service has been redesigned and improved. The interactive map has become more intuitive and user-friendly by displaying infrastructure from Rublevo-Uspenskoye Shosse and the Novorizhskoye Shosse. Registered users can also view the hard copy version of the newspaper in PDF format.
Advertisers' interests have also been taken into account: The choice of advertising and text modules has expanded, and it is now possible to order and pay for advertisements through the site.
In the near future, a "Direct Line" feedback service will enable residents of Rublevo-Uspenskoye Shosse and the Novorizhskoye Shosse to pose questions to competent authorities through the site's editorial office and rapidly inform other readers of news in their area.
"The development of digital products is a priority for the Sanoma Independent Media publishing house," noted Galina Ustinova, publisher of Na Rublevke newspaper. "We follow world trends in digital technologies and apply them to our projects. Improvements to the narublevke.com site have significantly enhanced its convenience and appeal for both the target audience and advertisers," she said.