Fall Menu from Custom Publishing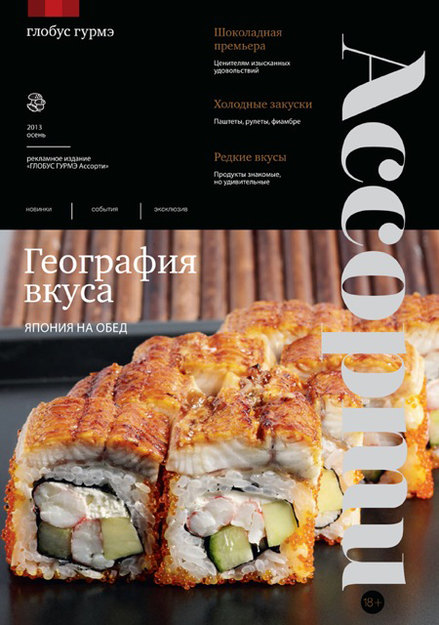 Custom Publishing opens a new gastronomic season with the fall issue of Assorti magazine published for the Globus Gourmet delicatessen chain.
A new assortment of meat dishes will grace the table this fall, a fact that will be reflected in the Globus Gourmet menu. In addition to the traditional items, customers will now find new varieties of cold cuts and meat spreads and rolls. Prepared according to recipes developed by Globus Gourmet brand chef Jorge Seville, these wholesome dishes are not only delicious but are sure to appeal to anyone who loves a healthy diet.
Sushi and roll lovers also have reason to celebrate this fall because the updated Japanese cuisine includes not only such traditional favorites as California and salmon sushi, but also original vegetarian combinations on rolls with assorted vegetables and popular sushi forms with heat-treated fish and seafood. This issue of Assorti also includes a review of new products from every corner of the globe and ideas for new culinary experiments.
Enjoy the shopping and new impressions!