Collezioni at KLM Photo Exhibition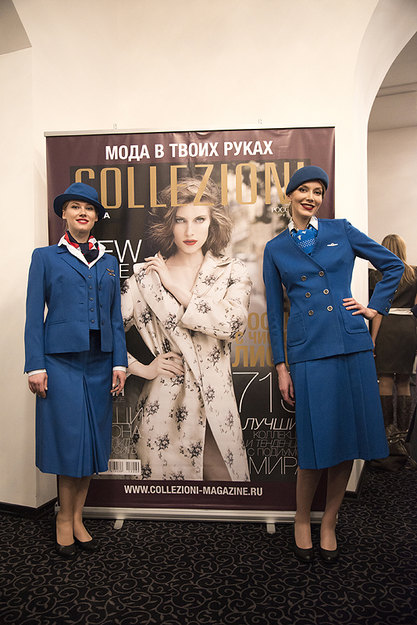 Collezioni magazine will serve as the media partner to a photo exhibition by Dutch airline KLM that will run from Oct. 17 to 30 in the Metropol hotel gallery. The magazine's logo appears on the printed invitations and exhibition guests can peruse the latest issues of Collezioni.
The exhibition features 90 black-and-white photographs documenting the 1920s to the 1960s. These images are part of the airline's unique photographic heritage that is housed in the Maria Austria Instituut in Amsterdam. The collection includes interesting photos of the opening decade of civil aviation, ordinary passengers in unusual situations, members of the royal family and famous people, countries, events and personages through the eyes of one of Europe's oldest airlines. The exhibition includes photos of the first Amsterdam-to-Moscow flight on July 21, 1958.
The opening day of the exhibition included a presentation of KLM uniforms from different years. The first KLM stewardesses came onboard in 1935, and the trademark bright blue color that is still used today was first introduced in 1971. The current KLM uniforms are the 10th design used to date, and were developed by the Dutch designer Mart Visser.