The Moscow Times Presents Russia – Germany Supplement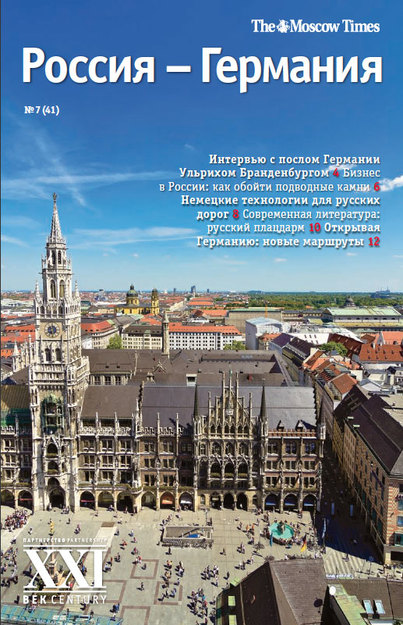 The Moscow Times newspaper presents the second issue of the special Russia – Germany supplement. This annual publication follows the development of closer bilateral relations between the two countries and underscores that, despite historical problems, today Russia and Germany are trading partners and share common positions on many international issues of international politics.
Germany is Russia's third largest trading partner and the mutual economic interests of the two countries go beyond the gas that Russia supplies through the Nord Stream pipeline. German investment in Russia reached almost $25 billion in 2012, and one of the largest of those investors, Siemens, announced plans in April of this year to invest $40 million euros to create 90 research and design centers in Russia. There is significant demand in Russia now for the experience of German companies, particularly in the construction of high-speed railways. This supplement examines the role Siemens played in building the high-speed Sapsan railway and plans for developed high-speed rail transport in Russia.
Business projects are only part of these bilateral relations. The countries marked the simultaneous Year of Russia in Germany and Year of Germany in Russia with a series of major joint exhibitions and cultural events. And the cultural exchange continues. In 2013, the whole world celebrates the bicentennial of  Richard Wagner's birth. A number of opera houses and concert halls paid tribute to the composer by staging his works. Russia's Bolshoi Theater was no exception, inviting German director Nina Güllsdorf, to stage "The Flying Dutchman" in a reading by Peter Konvichny. The performances will run in 2014.
Modern Russian literature enjoys an appreciative audience in Germany. The two countries have conducted bilateral exchanges in the fields of literature and book publishing for more than 100 years, and today's young Russian writers are more likely to see their works translated into German than, for example, English. Many Russian authors also took part in Read Russia, a special new program introduced at the Frankfurt Book Fair.
Russians are increasingly interested in travel and Germany remains one of their most popular tourist destinations. The upcoming Winter Olympics in Sochi provide a good reason to pay a visit to the slopes of Garmisch-Partenkirchen, a venue for the 1936 Winter Games and the Summer Olympic Games in Munich 1972. Readers will also discover new travel routes such as the Romantic Road, a 350-kilometer journey connecting southern German cities and castles of poetic renown. In fact, you can get a taste of Germany without even leaving Russia: just visit Kaliningrad, the former Koenigsberg, the most German of all Russian cities.