National Geographic Russia Photo Exhibition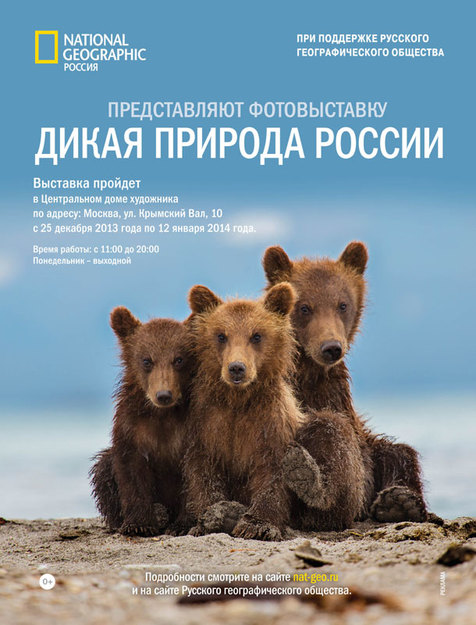 National Geographic Russia magazine and the Russian Geographic Society present the 2013 "Wildlife of Russia" photo exhibition. Visitors can view the exhibition at the Central House of Artists in Moscow at 10 Krymsky Val from Dec. 26 to Jan. 12.
The photo exhibition has been held yearly since 2011 and features the winning entries of the national "Wildlife of Russia" photo contest. This year's competition began in April, with contestants submitting their work through the nat-geo.ru site. Winners were chosen in the following categories: Landscape, Mammals, Mothers and Their Young, Russia's Nature Reserves, Birds, Close-up, Plants, From Dusk 'Till Dawn, Nature in Black and White, Underwater Photography, Young Talent and others.
Entrants submitted more than 30,000 photographs from all over Russia. The jury selected the winners of the 2013 "Wildlife of Russia" contest in October, and the members said more photos were submitted in the Mammals category than in any other. Elaine Bradley, a jury member representing the U.S. edition of National Geographic, noted the adventurous spirit of the participants, some of whom risked their lives to capture their amazing images.
Following its Moscow run, the exhibition of outstanding works will go on display at the Russian Geographic Society headquarters in St. Petersburg, and will then travel among a variety of regions with stops at more than 10 major Russian cities. Last year, the exhibition was shown in Moscow, St. Petersburg, Omsk, Tomsk, Kazan, Perm, Archangelsk, Stavropol and Penza and garnered a great number of positive responses.