National Geographic Russia Photo Exhibition Opens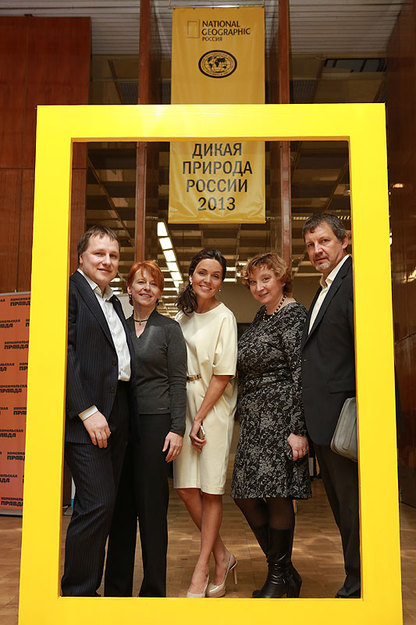 The official opening of the 2013 "Wildlife of Russia" photo exhibition was held on Dec. 25 in the Central House of Artists in Moscow. National Geographic Russia and the Russian Geographic Society (RGS), who teamed up to conduct the contest for the third time, announced the contest winners at the event. Participants submitted more than 30,000 photographs from cities all over Russia — St. Petersburg, Novosibirsk, Vladivostok, Saratov, Volgograd and many others.
Television hostess and RGS assistant to the president for media projects Anastasia Chernobrovina served as master of ceremonies. National Geographic Russia editor-in-chief Alexander Grek opened the awards ceremony, noting that the scale of the photo contest has grown larger each year and that the jury members were pleasantly surprised by the creativity and originality of the works that both amateurs and professional photographers submitted. Artur Chilingarov, RGS first vice president, stressed that the photographs on display in the Central House of Artists are not simply a collection of beautiful pictures, but stunning images of Russia's wildlife and nature that demonstrate the uniqueness of this country. National Geographic Russia director and Sanoma Independent Media board member Tatiana Shalygina then gave a welcoming address to the assembled guests.
This year, winners were chosen in the following categories: Landscape, Mammals, Mothers and Their Young, Russia's Nature Reserves, Birds, Close-up, Plants, From Dusk 'Till Dawn, Nature in Black and White, Underwater Photography, Young Talent and also Social Networks' Choice – a special prize from the Nokia Lumia company.
The winners are:
Landscape – Ksenia Tolmacheva for "Watercolor Dawn over Bogolyubovo";
Young Talent – Marina Ostapenko for "An Ant's History";
Close-up – Alexei Bibin for "Deceptive Geniality";
Plants – Alena Shvetsova for "In the Style of Japanese Painting";
Mothers and Their Young – Vladimir Popov for  "Give Me the Fish, Mom!";
Nature in Black and White – Viktor Tyakst for "Titmouse in Silhouette";
Birds – Nikolai Zinovyov for "Lucky Fishing";
From Dusk 'Till Dawn – Timur Akhmetov for "Lilac Dusk";
Russia's Nature Reserves – Vladimir Alekseyev for "Fire spit."
The jury did not award a first place in the Underwater category, but gave second place with honors to Eduard Nikolayev for his photograph "Princess."
Three winners shared first place in the special Social Networks' Choice category sponsored by Nokia Lumia: Alexei Gorokhov for "In the Snow," Vyacheslav Sosnovskikh for "Massacre at the Feeding Trough" and Gennady Yusin for "Magical Beauty." Each of the three winners received a Nokia Lumia 1020 smart phone with an integrated 41 megapixel camera.
Lenovo served as prize partner for the event, presenting Lenovo P780 smart phones and Lenovo Yoga tablets to the winners. In addition, each winner received an insulated Columbia jacket designed for comfort in the types of harsh environments in which both amateur and professional photographers often find themselves. Yves Rocher awarded special prizes to all of the top finishers in the Plants category and the RGS presented an Atlas of the Protected Areas of Russia to photographer Yury Doronkin.
The main prize of the 2013 "Wildlife of Russia" photo contest, a certificate for 300,000 rubles ($9,189), went to Denis Bogomolov for his photograph "Family of Foxes." Bogomolov said, "When I took the picture, I could not have even imagined that the jury would evaluate my work so highly. I am very grateful to National Geographic Russia magazine for giving me the opportunity to take part in such a large-scale competition and exhibition."
The photo exhibition displaying the winning works of the 2013 "Wildlife of Russia" contest will run in Moscow through Jan. 12. It will then move to the Russian Geographic Society headquarters in St. Petersburg and will afterward travel through the different regions of Russia.
More details are available at www.nat-geo.ru.
Photos: Rusudan Rcheulishvili, Ilya Melnikov